We are a Bangalore based top
Packers & Movers company
Welcome, to Day Night Logistics. We are one of the most satisfactory relocation corporations which have been provisioning insured and reliable relocation services at a reasonable price. Our specialists offer fast and affordable local household shifting and relocation services. The moment you hire us, we take your burden off. Our client satisfaction is the main justification. Try our reliable locomoting services today.
We have established ourselves as a great reliable identity, brand which has its own value till date.
We understand your responsibilities!
Are you in an in-depth form of confusion and looking for the best packers and movers? Day-Night Logistics is one of the best relocation company which has been providing guaranteed and reliable relocation services at affordable price from long past years.
DNL is the ideal name among packers and movers service providers of India. We offer world class packing, loading, unloading, transportation, unpacking, car transportation services including warehousing of household goods and commercial goods in India. We assist all cities in India. Our relocation experts are consistently devoted to provide Global quality relocation keys for every type of necessities.
Day Night Logistics conducts plenty of relocations every year, transferring Corporate and government employees and driving individual customers.
Our Skilled Professional Drivers Are Responsible For Packing, Loading, Hauling, Unloading And Unpacking At Origin And Destination With The Same And Familiar Qualified Crew At Both Ends.
Deviating your home is a stressful experience in your life. We are committed to underrate this stress and make your move a thriving one for you and to your family. Here, we follow a analytical approach as beneath.
Pre move survey Our professionally qualified moving counsellors would furnish you with allabout your move – assess the volume of the shipment to be moved, evaluate your packing requirements, explain our methods to safeguard your belongings and other relevant understanding as well. Day Night Logstics use different types of article stickers mentioning the items packed inside the boxes, cartons and fragle items.
Moving Protection Our local shifting service includes skilled packing or wrapping of all items. Blanket pads, plastic containers and other reusable materials would be used to maintain the funding under management and to avoid waste materials. We will be also using packing materials meant for international moves for protecting your valuable and delicate items. Our first priority highlights on the safety of your item.

Car & Bike shifting at affordable prices. Book Your Shifting today with us.
.
.
#carbike #relocation #movement #company #Bangalore https://t.co/44bJrr2y8S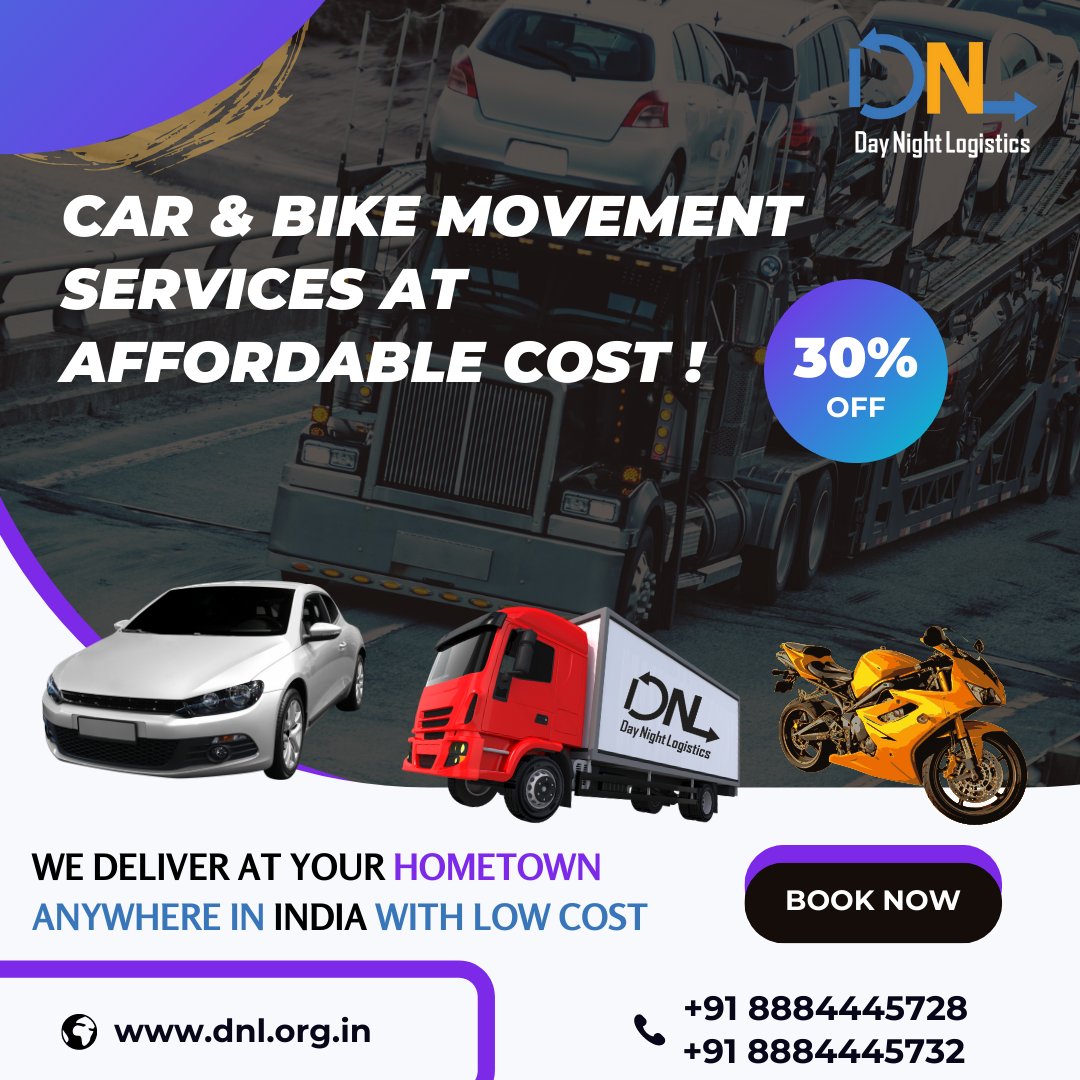 Ensure Pocket Friendly Shifting with us, Avail any of the services mentioned in a discounted price.

Visit Website now
https://t.co/gjwhsiFrpl
.
.
#Bangalore #Packing #relocation #company https://t.co/6aMgbeN7fm